There are those who collect coins as a hobby, and then there are actual coin collectors.  They spend their weekends at coin stores, antique
shops, and yard sales hoping to find an antique or rare coin to add to their collection.  At some point, we've all thought that there must be money in it. Otherwise, why would there be such a huge fan base?  There is, of course, the huge money in it!  At Oro Express Chandler Pawn and Gold, we're more than aware of the wealth that gold, silver, or rare coins can hold.  Because being a coin buyer for years, we've become experts in the field.  As a result, ensuring that each customer that walks through our door is getting the maximum value for their coins.
2 Categories of Coins
Numismatic Coins
When it comes to valuing coins, there are two primary types and each is valued in very, very different ways.  First and foremost, the type of
coins that those collectors we all know about are hunting, is the numismatic coins.  These are coins that hold more value than the coin value struck on it.  Typically this is due to one of two reasons: rarity, or age.  Extremely old coins have value simply due to how old they are, and coins are made rare as they're typically misprints from the United States Treasury or something of the sort.
Valuing these is the most difficult. It heavily depends on the condition of the coin, and what the world's experts are offering to buy it for.  It takes a truly trained eye, and coin selling customers from Chandler, Gilbert, or Queen Creek can rest assured they'll find them at our Chandler pawn shop.
Bullion Coins
The second type is the most common type: bullion coins.  These are silver, gold, or platinum coins whose value is solely dependent on the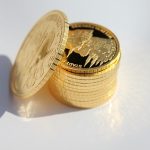 precious metal type. Despite whether it's some limited edition United States mint coin that's made of gold, odds are its value is entire because of the gold content held within.  These prices are fairly easy to determine as the weight of the gold, silver or platinum is all we need to put a cash price to it.
Selling Coins to Chandler's Coin Buyer
All it takes is for you to bring your coin from Chandler, Gilbert, or Queen Creek to Oro Express Chandler Pawn and Gold.  Our associate(s)
quickly values it, then presents you with a cash offer. Should you accept, we'll simply collect a few signatures; then put cash directly into your wallet.  All-in-all, the process can take as little as five minutes.  Ensure you sell coins only to experts you can trust like those you'll find here.  Helping customers get cash for coins for over a decade, we're Chandler's only coin store worthy of visiting.
Oro Express Chandler is the place to go to buy or sell coins, whether they are bullion coins or numismatic coins.  Our pawn shop continues to offer maximum amount and put cash in your pocket!