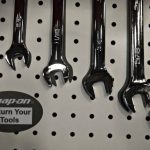 Having an impressive collection of handheld and power tools made by Snap-On tools takes time and money.  Because these tools are not cheap.  It is a quality line of tools that are backed with a lifetime warranty.  Therefore, even in a time you might be desperate for cash, you are not willing to sell them.  That's where Oro Express Chandler Pawn & Gold comes in to help.  We offer almost the same amount to pawn Snap-On Tools, rather than sell them.  In addition, you will have time to satisfy the loan and can have your tools back in 90 days or less.
The following is just a list of the categories of the Snap-On products we offer pawn loans on:
Assessment to Pawn Snap-On Tools
At Oro Express Chandler Pawn & Gold we are happy to assess your Snap-On tools free of charge for a pawn loan.
An assistant will begin the valuation with examining the external condition of your tool sets and power tools.  This is to make sure that there is no excessive wear showing on the tools.  Meanwhile, they also will confirm that all handheld tool sets are complete and all accessories for power tools are present.  After that, they will be plugged in and tested to verify they are in good working condition as well.  Finally, we will confirm what the current market value is of your Snap-On tools and our offer will be presented to you.
*Click on the bottom right of the screen and you will be connected with an assistant via live-chat.  They will be able to answer any questions you may have, and even start the process of the paperwork before you arrive at our location.  
Getting the Cash and Pawn Loan Agreements
If our offer is accepted, we will need your valid Arizona Driver's License and a few signatures to complete the paperwork.  After that, we will count out the cash and hand it directly to you.
All pawn loans are for a total of 90 days.  For the duration of the loan, your Snap-On tools will be kept safe and secure in our vault until the loan is satisfied.  Therefore, the day the loan is paid in full, your tools will be returned to you.
You are more than welcome to pay off the loan at any time during the loan.  In addition,  there are no penalties or fees added for early payment.  In fact, if the loan is satisfied before the 60th day, a redemption discount will be deducted from the total amount due.
However, if you find you will need more time to pay the loan in full, Oro Express Chandler Pawn & Gold can help.  With paying only the interest accrued to date, we can rewrite the loan and extend it for another 90 days.  Because we want to help you when you need cash, not cause you more unneeded stress.
Oro Express Chandler Pawn & Gold has provided multiple ways to get the cash you need for over a decade.  Chandler, Gilbert and Mesa residents rely on our pawn shop to get the most cash possible to sell or pawn their valuables!