Sell Silver Rounds
Our investments are an assurance that we have something to show for our due diligence of thinking ahead. Whether it is time to make that major purchase, or cover the costs of a household emergency, you need the return of payout to be the most possible.  That's where Oro Express Chandler Pawn & Gold comes in.  When you sell silver rounds to us, you will receive a higher percentage rate than any of our competitor's offer.   While others pay an average of only 50% – 60% percentage rate, our payout is 70% – 80% percent of the spot price.  Because we think it is important for our customers to get the most cash possible from selling silver rounds.
Sell Silver Rounds & Get A Pocket Full of Cash in Minutes
As a result, your investment's value is literally worth its weight of silver.   In addition, the assessment of bullion rounds and most commemorative rounds is simple and is very straight forward.  Our store is equipped with the Sigma Metalytics tester.  This handy device analyzes and measures the purity of your silver rounds within less than a minute, without any invasive testing.  Although silver rounds are struck with their purity, it is practice to validate it is correct.  Then the silver rounds are placed on the scale to weigh your silver rounds.  After that, the spot price is checked to calculate our cash offer and then present it to you.
All of our silver round valuations are free of charge and there is never an obligation to accept our offer.
Once a cash offer is accepted, we will need a valid and current Arizona's Driver's License and some signatures to complete the paperwork.  After that, we are counting out the cash and you will be walking out with a pocket full of cash.  The entire process can take as little as 5 minutes.  Because we at Oro Express Chandler Pawn & Gold understand that time has value in and of itself.
Click on the bottom right of the screen to connect with an assistant via our live-chat.  We will be more than happy to answer any questions you may have and can start the process on-line before you even arrive at our location.
We Buy Bullion, Commemorative, Themed & Proof Silver Rounds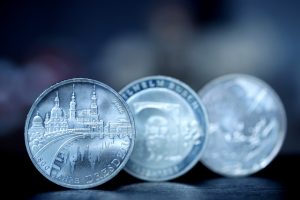 Whether you have a collection of the generic bullion silver rounds or the minted proof silver rounds, we will buy them.  Furthermore we welcome any size from 1/10th oz to 10 oz silver rounds.  In addition, we also buy complete series collections of commemorative and themed silver rounds.  Or just the ones your willing to sell.
Although most silver rounds are based on the payout of their weight and purity percentage, there are exceptions.
Our skilled and experienced staff at Oro Express Chandler Pawn & Gold will also be able to valuate any numismatic silver rounds as well.  However, their assessment is more extensive, which will take a few minutes more.  Because there are other aspects and markings to verify for these rounds.  So consequently, the appraisal takes a little more time to be able to accurately appraise it's value.
Secure a Pawn Loan With Your Silver Rounds
If you are needing a way to get some cash quickly, but are not willing to sell silver rounds, we can help there too!  Your silver rounds can be utilized as collateral for a pawn loan.  Our pawn loans are for 90 days and once the loan is satisfied, we hand you back your silver round collection.  Pawn loans do not require a credit check, need proof of income or make you wait for a bank's approval.  In the end, you will have quickly and get your silver rounds back in your possession once you pay off the loan.
Oro Express Chandler Pawn & Gold has been serving Chandler, Mesa, Gilbert & surrounding areas for over a decade.  We have earned our reputation as being the Pawn Shop that Chandler trusts!  If you are looking for a reliable bullion buyer or seller, you have found it!