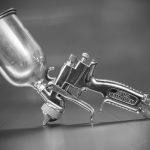 Whether your commercial paint sprayer is to make extra cash or complete home projects, you're not going to sell it.  You've invested in saving time and completing big jobs fast.  However, if you need cash, you can pawn paint sprayer for almost the same amount and still own it in the end.  To make use of your sprayer's value, bring it down to Oro Express Chandler Pawn & Gold.  Our pawn shop offers the most cash possible for collateral loans on HVLP, Airless or Compressed Air paint sprayers and accessories.
Pawn Paint Sprayer for the Most Cash Possible
Our motto at Oro Express Chandler Pawn & Gold is to offer our customers the most cash possible, and put it in your hands.  Therefore, we realize that it is important to correctly assess your painting equipment to offer more than our competitors with confidence.
An associate will gladly examine your painting equipment and accessories, by first examining its physical appearance.  So consequently, it is important to bring in your painting tools in their best possible condition.  Meanwhile, they will also be making sure that all of the accessories and attachments that come with these tools are all present.  After that, everything will be connected, plugged in and verified they are in good working condition.
Brands of Paint Sprayers That Can Get You the Best Offers
*Click on the bottom right of the screen to connect with an assistant via live-chat.  They will be able to answer any questions you may have, and start the process on-line before you even arrive at our pawn shop.  
Turn Our Offer Into Cash in Your Hands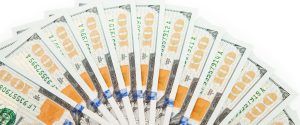 If our offer is accepted, we will need a few things to complete the pawn loan agreement.  First, our associate will need your valid and current Arizona Driver's License, followed by a few signatures.  After that, we will be counting out the offer in cash and handing directly to you.
All pawn loans are for  a total of 90 days.  For the loan's duration, your valuables are kept safe and secure in our vault, until the loan is satisfied.  You are more than welcome to pay off the loan at any time during the 90 days.  There are no penalties or fees for paying off the loan before the the 90th day.  In fact, Oro Express Chandler Pawn & Gold will deduct a redemption discount if the loan is paid in full prior to the 60th day.  Thereby, lessening the amount due to retrieve your belongings that same day.
However, if you need more time to pay off the loan completely, we can work with you.  With only paying the interest accrued to date, we can rewrite the loan for another 90 days.  Because we want to help you in times you need cash, not cause you more stress!
Oro Express Chandler Pawn & Gold has provided Chandler, Gilbert and Mesa residents with options to get the cash you need for emergencies and more!