Get The Most Cash for Your Jewelry in Chandler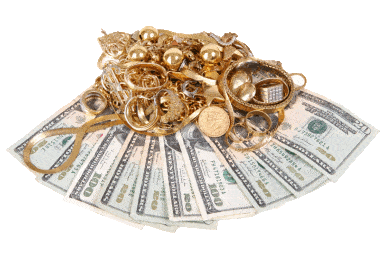 No matter whether you're in Chandler, Gilbert, or Queen Creek, you can get a cash loan on your jewelry.  Gold jewelry, silver jewelry, and diamond jewelry are as good as cash at Oro Express Chandler Pawn and Gold.  If we own one piece of jewelry, you can put your money on the fact that you've probably got an entire jewelry box full of it.  When we're in times of financial need, we don't ever think about the literal cash piles we have just sitting around the house.  Your electronics such as your television, laptop, and cell phone are obviously necessary in our day to day life, and you can't part with those if you're in need of fast cash.  What you can do is get a secured cash loan on your jewelry in as little as five minutes.  Earrings, bracelets, necklaces, watches, all of these are good for pawn loans at the top pawn shop in Chandler.
What Kind of Jewelry Can I Get a Loan On?
Literally any type of jewelry.  Gold, silver, platinum, diamond, we can get you the money that you need on any of it.  The vast majority of jewelry derives its value from the precious metals that comprise it, and not the piece itself.  While there are obvious exceptions, like brand name items like Tiffany or Cartier, most of it comes from the purity and quantity contained inside of it.  There's a reason why much of our currency in historical past, and some of it still today, is placed in gold and silver coins — because it's literal cash!
Any gold or silver jewelry, even if it's broken, can get you a cash loan at Oro Express Chandler Pawn and Gold.  Our associates have been offering jewelry loans to our customers for over a decade making them experts at the valuation of all jewelry.  This allows us to offer aggressive jewelry loans to get you out of whatever financial distress you find yourself in.
What Can I Expect if I Want a Jewelry Loan?
It obviously all starts when you visit our Chandler pawn shop.  One of our associates will grab the piece of jewelry from you and gauge its overall condition.  Next, we'll look for what's known as a stamp.  This indicates the purity of the gold or silver contained inside, and is typically found on the clasp of the jewelry, or in the case of a ring, on the inside.  If you're looking for diamond jewelry, stay tuned, I'll break that down for you in a second.  For silver jewelry, the stamp will typically say 925 or STERLING indicating 92.5% purity, the standard for silver.  For gold it can vary wildly from 10kt all the way up to 24kt.  This makes for a minimum of 41.7% pure all the way up to 99.9%.  Next we'll use what's known as an acid test to verify that purity.  It's a simple test that involves taking some gold flakes from the jewelry loan piece and placing acid on it.  No reaction is an excellent sign meaning that the stated purity is correct.  Lastly, we'll weigh the jewelry in grams to get a cash offer.
What if it's diamond AND gold/silver jewelry?  Then we'll test the diamond!  We use a diamond tester to make sure its real, then we look at the four C's of diamond testing.  To get the most cash jewelry loan, you'll want to score as high as possible obviously.  The first C is cut, as some are more preferable than others, the second is Clarity (are there blemishes on top, or inside of the stone?), the third is Color (how clear is the diamond) and the fourth is Carat (how much diamond is in your diamond).  We factor these together, get a price, and add that to the price of the precious metal inside as well.  This makes for your cash offer, and should you choose to accept, we'll collect a few signatures, place your jewelry in an environment proof bag, and store it in our safe, secured, insured vault.  We have the lowest interest rates and the lowest monthly payments in all of Chandler, Gilbert, and Queen Creek, so get a loan on your jewelry from the one place that knows their stuff.
How Do I Repay My Jewelry Loan?
Whenever you want!  No matter if it's silver, gold, or diamond jewelry, we don't have a prepayment penalty.  The pawn loans by default are written out for a term of 90 days, and interest accrues over that time, so obviously paying early is always going to be in your best interest but we certainly don't require it.  If at the end of the 90 days you're still catching up on finances, we're more than happy to help out.  All we require is that you pay off the interest and we're more than happy to extend your jewelry loan for another period of 90 days.  We're not in the business of repossessing our customer's jewelry, but helping them out of poor situations so we will do everything in our power to that end.  If you'd like help evaluating your jewelry loan options, just give us a call, use our live chat at the bottom, or stop on by and we're happy to help free of charge.