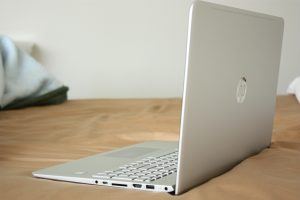 Laptop Buyer
When we look back just a decade in time, laptops were but a luxury.  Even university or college students were not graced with being able to have a laptop based on costs.  Today, however, times have changed immensely. A brand new Chromebook is sold for less than $200.  Bringing technology to the masses has certainly shaped the world for the better, but has created an immense used laptop industry wherein hundreds are being left, discarded, collecting dust in the corners of homes and businesses.  At Oro Express Chandler Pawn and Gold, your laptop is as good as cash to us!  No matter the age, we'll happily be your Laptop Buyer if you've got one sitting around.  There's no time to delay, if you're in Chandler, Gilbert, or Queen Creek, then we're here to help you sell laptops for cash today!
Getting Cash for Your Laptop
The quickest way to exchange your used computer for cash is to use our live chat at the bottom of the screen. During all business hours, we have a trained associate who will happily answer any questions. But more importantly, walk you through what is necessary to bring, and can also provide a cash quote for your laptop before you even come down to our Chandler pawn shop.  It also allows our employees to get your paperwork ready saving you some time inside the store.
When your laptop makes it through our pearly pawn shop gates, one of our associates will begin a basic inspection.  This is to ensure that all essential laptop functions are still in working order; like connecting to the Internet, playing video/sound, and other essentials. Lastly, using the model number and the specific generation of the laptop, our associate will look at what recent buyers and sellers; those who are paying for the used laptop.  This helps us get a good gauge on what the market looks like; which allows us to get you the maximum cash price for your laptop.  When you accept, we collect a few signatures, and you're off on your way with cold, hard cash in your pocket!  In Chandler, Gilbert, or Queen Creek, you can go from zero to hero in as little as a few minutes.
Laptop Loans Also Available!
We understand that a laptop, no matter its age, can have immense sentimental value to its owner.  Whether there's old images, pictures, or just sensitive financial information, we understand not wanting to sell laptops for cash immediately.  If that's the case, then our caring employees at Oro Express Chandler Pawn and Gold are more than happy to accommodate; we can offer a cash loan on your laptop instead!  This allows any customer a period of ninety days; allowing customers to come and repay the principal plus interest accrued up to that point. Once done, we have their laptop returned to them.  It's no difference to us whether you let us be Chandler's laptop buyer or laptop cash lender. We are here to serve and help residents find financial stability once again.