Pawn Louis-Vuitton
There are very telling reasons that Louis-Vuitton is one of the most illustrious designers of all time.  For instance, the fact that they are each handmade, and each one takes a week to make.  Another is that the tan leather piping along the monogram is never dyed.  This is a practice they have always held, allowing the leather to darken with time.  The most extraordinary thing about this line is their products are long lasting.  This is due to them not only being waterproof, but also fireproof.  That is why Oro Express Chandler Pawn & Gold proudly offer cash to loan when you pawn Louis-Vuitton items with us.
These are the items from Louis-Vuitton we are able to offer collateral loans on: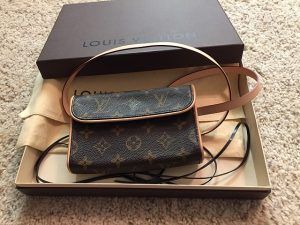 Shoes

Loafers, Sandals & Flats
Boots, Pumps and Mules

Leather Goods

Wallets (Long, Compact or Chained)
Belts & Belt Bags
Pouches

Handbags

Shoulder & Cross Body Bags
Totes & Backpacks
Chain Bags & Clutches

Watches
Sunglasses
The Best Appraisals When You Pawn Louis-Vuitton
To get the most cash possible you need an accurate appraisal, which is what we strive for!  At Oro Express Chandler Pawn & Gold we can make that happen!  With the most advanced tools and a skilled and experienced staff, an accurate appraisal provides the most cash possible.  Essentially, there are three things we have to consider giving a precise assessment on Louis-Vuitton items.  Beginning with verifying their authenticity, the interior & exterior condition maintains their aesthetic appeal, along with the fair market value reference of their resale value.
Because Louis-Vuitton, along with any haute couture lines, are fraught with counterfeit knockoffs, it is necessary to verify authentication before the valuation itself.  For this reason, it is imperative to verify it is a bona fide Louis-Vuitton accessory.  If you have the receipt from purchase, original packaging it came in, its certification, or all three, you will achieve two things.  First, a confirmation of the handbag's authenticity.  In addition, they each increase the value, which raises our cash offer to you.  If you do not have any of those items, Oro Express Chandler has the tools needed!  With the application of Entrupy, we can authenticate your shoes and accessories in about 15 minutes.
To authenticate any Louis Vuitton, we charge $45 per item, and must be paid in advance. 
After that, we look at the overall condition of the high heels.  It is important to note if there are any scuffs, marks or embellishments that could affect their value.  The pairs aesthetic appeal and timeless design are essential to receive the best appraisal.  Finally, we check the fair market value of your pumps, before we propose a cash amount to you.
Our valuations are complimentary, and there is no contingency to accept our offer.
Turn Your Louis-Vuitton into Cash
If our cash offer is accepted, we will need to see your valid Arizona Driver's License, and a few signatures to complete the paperwork.  After that, we will count out the cash directly to you, and you can be on your way.  From start to finish, the entire process takes as little as 20 minutes, and you will be on your way with a pocket full of cash when you leave.
Pawn Loan Terms
All of our pawn loans are for a total of 90 days.  For the duration of the loan, your valuables are kept safe, secure and locked in the back until your return.
The loan is to be satisfied in full by the the 90th day.  However, you are welcome to pay the loan in full at any time within that time frame.  In addition, if you come in and pay the loan in full by the 60th day, the amount due will reflect a redemption discount.  In the end, the out-of-pocket cost to reclaim your property will be less than stated in the contract.
Although, if you do not believe you can pay the loan in its entirety by the 90th day, come in and talk to us.  By paying only the interested that has accrued to date, we can extend the pawn loan for another 90 days.
Once the loan is satisfied, we gladly retrieve your valuables from the secured room in back, and hand them back to you once again.
Connect with an associate via live-chat and get the process started by clicking on the bottom right of your screen.
Or contact us via text at (480) 704-0809 with your questions and we will reply 24/7.