Sell Watch & Get Fast Cash
It's not uncommon to find residents of Chandler, Queen Creek, or Gilbert to be true watch aficionados and have dozens of fine, luxury timepieces sitting at their homes.  For many people, the key to the perfect outfit is having the perfect accessories. A watch is definitely one of the most important, to that end.  Watches can be worth anything from a ten dollar bill, to multiple hundreds depending on the brand; they're also an easy source of cash for those who need it.  If you need cash, the easiest option is to sell watches to us; here at Oro Express Chandler Pawn and Gold.  We've been the premiere watch buyer in Chandler for more than a decade; paying cash offers worth visiting for each time customers sell watch and watch accessories to us.
Getting Cash for Your Watch
Over the years, we've understood that if you find yourself in a place where selling your prized watches is an alternative then however you can get the most amount of cash possible the quickest is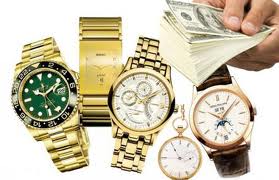 what you need.  We've streamlined our process over the years; allowing customers to get the cash they need in as little as five minutes.  From walking in the door to driving away in your car with a wallet full of cash; it can really be that quick.
The quickest way to ensure you can get all the cash you need from our Chandler pawn shop is to use our live chat at the bottom of the screen before you pay us a visit.  If there's a certain amount of cash you need, what we can do is provide you a quote for the watch you'd like to sell immediately, and then help you find a way to get whatever extra cash on top of that you need.  We'd hate to have to make our customers take multiple trips, so contacting us beforehand ensures that you'll be able to leave with the proper amount of cash in hand.
What's The Process to Sell Watch?
When you do bring your watch down to Oro Express Chandler, our associates will begin assessing its overall condition.  This includes ensuring it's in proper working condition, as well as checking for scratches on the face and the band.  Typically these won't have a huge effect on the price unless the watch face is just about unreadable.
The next step we take is why customers return to Oro Express Chandler Pawn and Gold. In order to find the right price to sell your watch for, we assess what the global used watch marketplace; this helps us determine what the model is currently buying and selling for.  To keep our prices accurate and ensure that all parties are getting fair cash offers, we make sure that our offer matches what other individuals are paying for it.  Whether you're selling a fine watch, fashion watch, or luxury watch, you can rest assured; Oro Express Chandler Pawn and Gold's focus is that you're being taken care of.
Lastly, if you've got a silver, gold, or platinum watch to sell, we carefully evaluate the value of the precious metals involved so that the only watch buying cash you're getting is the right amount.