Estate Jewelry Buyer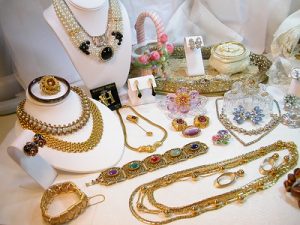 Estate jewelry actually composes the largest proportion of the used jewelry market of the world. Due to the nature of precious metals like silver and gold, and also stones like diamonds, jewelry pieces can have a lifespan of hundreds of years.  Most importantly, they are often passed down through generations of family members. This estate jewelry still holds immense value! Eventually, it's going to leave the household where it's been for millennia; reintroduced out to the world.
Oro Express Chandler Pawn and Gold has been the leading estate jewelry buyer; for well over a decade! Paying only the highest prices for silver, gold, and diamonds in all the land, we've amassed an inventory rivaling some industry-leading jewelry stores in town.  If you've got estate jewelry to sell, Oro Express Chandler Pawn & Gold is the place to go!
What Is Estate Jewelry?
As mentioned above, estate jewelry is any jewelry that has a significant age to it. More often than not, this has been in a household for a great deal of time. Having passed through more than one generation of the family is typically enough for us to classify a gold, silver, or diamond jewelry piece as an estate. While it makes no difference to Oro Express Chandler Pawn and Gold as we're buyers of all jewelry, it's a simple classification that most likely brought you to our Chandler pawn shop!
The distinction often doesn't greatly change the value from regular jewelry to estate jewelry.  Except in the case of truly special pieces.  In some antique or rare jewelry pieces, its value can be constructed from the simple weight of the precious metals in the piece of jewelry.  This most commonly is how jewelry is appraised, but can definitely change in the case of estate jewelry.
Selling Estate Jewelry for Cash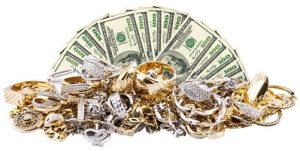 When you let Oro Express Chandler Pawn and Gold become your estate jewelry buyer, you make the decision to put the maximum amount of cash in your pocket.  Working with a trusted jewelry store.  When you walk through our Chandler pawn shop door, our associate begins their inspection of your estate jewelry.  By establishing the material, and also its purity level, looking for a stamp.  This is located in hard to find places; on the inside of gold or diamond rings, or on the clasp of necklaces.  We do, of course, also test the jewelry to confirm its purity level. But this gives us a good starting place when selling your jewelry.  Lastly, the jewelry is weighed and the spot price checked.  Because our offers are according to how many grams of gold, silver, or platinum is in the piece of jewelry.
To our customers we happily only pay cold, hard cash for gold, silver, or diamond estate jewelry.  We believe in being able to get our customers cash in mere minutes.  Instead of having to put them through the process of using a check or anything of the sort.  We're the leading estate jewelry buyer in town, and will be for the coming decades as well.