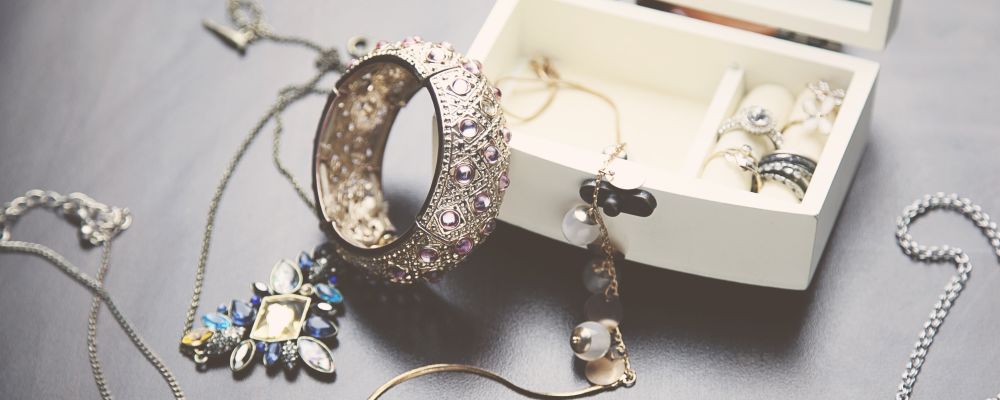 Have you ever wondered if you should sell your estate jewelry? Maybe you have inherited something you don't want or need. Maybe you've come up against hard times, and just need some extra money or collateral on a loan to get you through. Whatever the reason, it's easy to pawn estate jewelry and get the cash you need.
Before you set foot in one of the many pawn shops in Arizona, however, it's important to do your research and know what you're dealing with. Arriving unprepared could cost you money, and you might not ever even know it. Here is everything you need to know about estate jewelry and how to sell it.
What Is Estate Jewelry?
"Estate jewelry" is basically just a polite way of saying used jewelry. Don't confuse it with antique jewelry, which has to be 100 years old to be considered antique, or even vintage jewelry, which is usually older but not as old as antique jewelry. Estate jewelry could even be just a few years old, but once it is used, it can't be sold as new.
Estate jewelry implies that it has been inherited with an estate, but it doesn't have to mean that. Jewelry that you've had in your possession for a while could also be considered estate jewelry if you decide to sell it. It's just from your own estate.
Of course, estate jewelry can also be either antique or vintage, which is another reason why you should always do your research before you shop it around to Arizona pawn shops. Antique jewelry may be worth a lot more than just the value of its components, but you may need the expertise of a jeweler or an antique dealer to discover this.
How Do You Know if Your Estate Jewelry Is Real?
Before shopping around your estate jewelry, it's important to have a good idea of what you have. "Real" jewelry is what will generate the best prices, but how do you know if yours is real?
There are several ways to tell if your jewelry is real gold, real silver, or real gemstones.
Check the jewelry for markings. Typically precious metals will be stamped with the purity. Look for 14K, 18K, 24K, etc. on gold, and "sterling" or 925 on silver. Also look for any jeweler's marks that identify the manufacturer, and perhaps indicate whether it is fine jewelry.
Look for the original box and paperwork. If you have the original box, certificate of authenticity, an old appraisal, or any other paperwork that goes with the jewelry, it will help to establish what the jewelry is.
Have a professional take a look. If you can't find any clues or don't trust your own judgment, it never hurts to ask a jeweler or jewelry appraiser to take a look. They can test the purity of the metal, inspect the gemstones to determine whether they are authentic, and even give you an estimate of the value.
Preparing Your Estate Jewelry to Sell
Once you've verified that your jewelry is worth selling, it's important to make it look like it. Estate jewelry may not always look like much, especially if it has been packed away for a long time. It may be dirty, tarnished, or broken.
Cleaning and polishing your jewelry is easy, and can usually be done at home if the piece isn't too heavily soiled or tarnished. Be careful though with the DIY cleaning remedies you find online, as some of them are too harsh and will scratch or damage the jewelry. The best rule of thumb is to use as gentle a cleaning method as possible that will still get the jewelry clean. A mild soap, plenty of water, and a soft microfiber cloth should do the trick.
How to Get the Most for Your Estate Jewelry
Just like anything else in life, you'll get the most cash for estate jewelry when you're well prepared. Do your research! Dig up any paperwork you might have, look for markings, try your best to estimate a value for the jewelry, and make it look presentable before bringing it in. If you bring in dirty, unidentified jewelry, the pawn shop owner or dealer is going to assume you don't know what you have, and might not make you the offer you were hoping for. Cleaning the jewelry beforehand, identifying it to the dealer, and just generally sounding like you've done your research will ensure that you get a fair price for your jewelry.
Cash for Gold Chandler AZ
Another way to ensure you get a fair price is to deal with a reputable jewelry buyer you can trust. If you have estate jewelry for sale, bring it into Oro Express Chandler today. We will do an assessment on the spot and let you know what we can offer you for your jewelry.
Contact Us for a Quote on Your Used Jewelry!