Sell Jordans for Cash Now!
For almost 40 years now, Michael Jordan's legacy has lived on through his shoes, sneakers, and clothing line.  For those in the know, it's no wonder just how valuable some of these sneakers can be.  From Air Jordans, to Jordan 1's, to Jordan Retros, there's a wide array of shoe lines worth cash.  At Oro Express Chandler Pawn and Gold, we can pay cash for your Jordans on the spot.  No matter the type, and whether they're used or new, you can sell Jordans or sell Air Jordans to us today.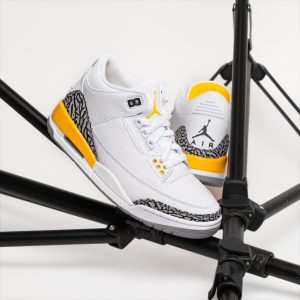 The Most Cash When You Need It When You Sell Jordans
First and foremost, unlike other Chandler pawn shops, we pay the most cash for Air Jordan sneakers in town.  Our pawnbrokers have bought, sold, and loaned against hundreds of pairs of Jordans making them our in-house experts.  This ensures that the price we assign to the shoes is accurate, and allows our customers to get the cash they deserve when selling.
On top of this, our pawn shop is open 7 days a week allowing you to sell Jordans from Chandler, Mesa, or Tempe whenever you want!  We never know when financial strife is going to enter our lives, and we want to make sure we're here to help when it does.  From start to finish, most of our customers have cash in hand in as little as five minutes!  Go from zero to hero and sell your Jordans to Oro Express Chandler Pawn and Gold today!
We Buy Both New and Used Jordans Too!
We don't discriminate – no matter whether your Jordans are new or used, we will have a cash offer ready for you when you come in.  If you still have questions about selling your shoes, then use our live chat at the bottom right of the screen.  An expert can answer whatever questions you have regarding shoes, sneakers, or the process on the spot.  For some items, we can even provide you a cash quote before you come down to the store!  You won't find service like Oro Express Chandler Pawn and Gold anywhere else in town, so come and sell your Jordan shoes to us today.
Maximizing Your Cash Value
You don't have to be an expert to know that shoes that are like-new are going to be worth the most amount of cash.  You of course want to keep them in the best condition possible in order to get the most cash from us, but there's also other things you can do to help.  Any accessories, boxes, or paperwork that came with the Jordans can instantly add value to the item.  Even just bringing them down in the original box can add more money than you'd imagine to our buy offer.  At Oro Express Chandler Pawn and Gold, we take every step possible to try and get our customers the most amount of money possible when they need it.
So come and visit the best pawn shop Chandler has to offer.  We're open 7 days a week, and can buy your Jordan shoes on the spot without an appointment.  We're here to help you in Mesa, Chandler, and Tempe!