Gold Vs Silver
Two of the most well-known precious metals are gold and silver. These metals are called precious due to their scarcity in the earth's crust. Highly regarded throughout history for their value in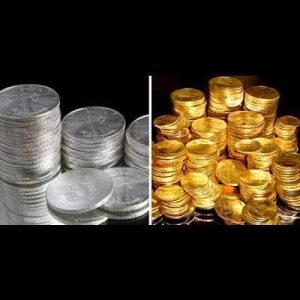 trade and commerce, both have been searched for the world over by explorers. As a result of such discoveries, new countries and trade routes were opened, allowing for their mining and trade.
Much of the United States was developed by those in search of the prosperity yielded by precious metals. Interestingly enough, Christopher Columbus was prospecting for gold when he set sail and ultimately landed in the New World. In the mid-1800s, the Great Gold Rush resulted in further settling of areas like California and Alaska. However, archeologists state that gold and silver were mined long before then. In fact, the infatuation with these metals dates back nearly 6,500 years.
The Evolving Utility of Gold and Silver
These elements were historically used in trade and commerce as currency or in the creation of ornamental pieces. However, more practical uses have been developed over time, such as in medical products and electronics. Much like their utility has evolved, there are also shifting commonalities and differences between gold and silver. Here is a firsthand look at a couple of aspects of each.
Current and Future Value
Both gold and silver have enjoyed an increased value in their trajectory over time. However, silver seems to reach greater peaks and valleys in conjunction with gold's fluctuations in value during market variations. This means that as the price of gold rises or falls, the value of silver does so to an even greater degree. While the overall value of gold is higher per ounce, the percentage change of silver's value is bigger. This results in slightly greater volatility for silver over gold.
Over the past ten years, gold has seen an increase in value per ounce from $450 to $1,650. This commodity is closely tracked by investors and economists and is a major form of currency. Silver increased over the same time period from $7 per ounce to $35 per ounce. Again, this is an even more significant change from a percentage standpoint even though the dollar value per ounce is less.
The Demand for Silver and Gold
Silver is used in a variety of industries and products such as cell phones, electrical appliances, medical devices, computers, refrigerators, and more. While the cost per ounce continues to increase,
it remains quite affordable. It is also accessible, with countries like Peru holding vast reserves. At $30-$35 per ounce and with more uses being discovered regularly, silver shows no signs of weakening demand in these products.
Gold has less use in products and industries compared to silver. However, it is the predominant form of investment as a hedge against other currencies such as the U.S. dollar. Not only people but also countries invest in it to hedge their risk against the shifting value of the dollar. Whether jewelry or gold bullion, this precious metal has yet to see diminishing returns on its investment.
Go for the Gold
Gold will continue to hold substantially more value than silver due to its limited supply, high demand and multiple uses.  Which keeps a high emphasis placed on the commodity by central reserve banks, investors, economists, and entire countries. While it may be expensive to buy, it is excellent if you are in the market to sell.
With gold continuing to enjoy historical highs and no signs of decline, now is an excellent time to see the value of what you have. Oro Express Chandler Pawn & Gold can help. Let us tell you what your gold is worth today.