We are the premier Jewelry Buyer Chandler has to offer!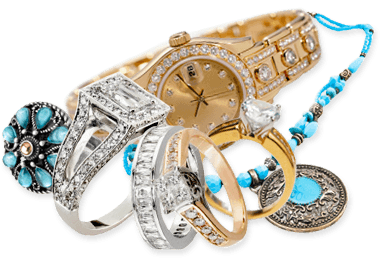 Stop by today and see what makes us the #1 Jewelry Buyer Chandler likes the MOST!
Looking for a jewelry buyer you can trust to give you the MOST money for your gold, silver, or diamonds? Look no further! Oro Express Chandler GUARANTEES the biggest cash payouts for your jewelry. We are proud to be able to offer the most money for your jewelry. Our employees are highly trained to give you the best quotes on the market for your diamonds, silver, gold, platinum, WHATEVER you have! We promise you will always leave our pawn shop with complete satisfaction! You don't have to be disappointed by other pawn shops and their absurdly low offers; Oro Express Chandler guarantees we will offer you more!
The Jewelry Selling Process
Most of us haven't gone through the process of selling jewelry to a pawn shop.  When it comes to selling silver or selling gold, it's wildly important to trust your jewelry buyer, but also to have an idea of what's going to happen when you do decide to bite the bullet.  No matter whether you're coming from Chandler, Queen Creek, or Gilbert, our process is the same for all our customers.  Let's explore the process that we've optimized over the last decade for buying jewelry.
It all starts when you bring your pieces down to Oro Express Chandler Pawn and Gold.  One last thing, we forgot to mention that your diamond jewelry is as good as cash here too!  So, as I was saying, when you come down and visit our store we'll take a look at your piece of jewelry and look for something known as a stamp.  This is typically found on the clasp, or on the inside of something like a gold ring.  Typically, it will indicate 10, 14, or 18 kt for gold, and 925 for silver.  This indicates the purity of the gold contained in the piece of jewelry, whereas silver is typically only 925.  If it reads sterling, that's the same thing as 925 for silver jewelry.  Next we verify this stamp by using specialized acid.  We collect a few flakes from the jewelry on a special piece of stone, and put some specialized acid on the bits.  If it doesn't react, then we've nailed the kind of purity. Lastly, we take the weight of the gold and multiply it by that current purity's selling price on the global market and make you the cash offer.  When you accept our offer for your gold or silver jewelry, we'll simply collect a few signatures and put cash right in your hand.
So what if the jewelry has a diamond, or multiple diamonds?  It's pretty simple.  Unless there's a stone that's over a carat in the ring, then we simply figure out its carat size and pay separately for the diamonds.  A common misconception is that the piece of jewelry as a whole is what gives it it's value, but at the end of the day it really is just a culmination of the precious materials and stones that make up the price.
So whether you're in Chandler Gilbert or Queen Creek, come pay a visit down to Oro Express Chandler Pawn and Gold for the highest cash for gold prices.  We have the best per gram rates you'll find, so come sell gold and silver jewelry to us today and get thousands of dollars in minutes.
What jewelry is Oro Express Chandler interested in?
EVERYTHING! Broken or damaged jewelry, gold chains and rings, all watches, whether they work or not, dental gold, cuff links, earrings, estate jewelry, scrap jewelry, WE WILL BUY IT ALL! We take much pride in our ability to purchase almost everything of value; that's what makes Oro Express Chandler so special. Don't forget that we also PROUDLY serve Mesa, Gilbert, and Queen Creek!
So, why should I come in to Oro Express Chandler?
We've been serving the areas of Chandler, Queen Creek, and Gilbert for well over a decade buying silver jewelry, gold jewelry, and diamond jewelry.  Pawn shops are businesses taht come and go, and ones that many people simply don't think highly of, so as soon as one catches that bad reputation, people avoid them and they're straight out of business.  Having been the best pawn shop Chandler trusts, and racking up hundreds of reviews, it's clear that we're the only place to go to sell jewelry.
What impacts the price of your jewelry the most is their buying rates, and how often they're updated.  Oro Express Chandler Pawn and Gold updates their silver and gold rates every single morning based on what the global trading prices are.  This means that our prices are always up to date allowing us to offer the highest cash for gold and cash for silver rates in all of Chandler, Gilbert, and Queen Creek.  This matters because, as explained up above in our jewelry selling process section, the price paid when selling jewelry is by the gram so those rates are all that matters.  Trust us, come down to our store with any of your jewelry, and we'll pay higher than the competition.  We're the only jewelry buyer you should trust, particularly if it's diamond jewelry you're selling.
Have a look at our individual pages for:
Gold Buyer – Here you can see what kinds of gold we buy!
Silver Buyer – This page describes in more detail the kinds of silver we buy and gives some insight into our pricing.
Diamond Buyer – Here we offer some information as to the types of diamonds we buy and some general info about diamonds!
Also proudly serving Queen Creek, Mesa, and Gilbert!